True-Knowledge 3.6 is Here!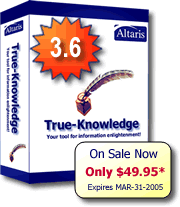 True-Knowledge is a powerful information database manager that captures, tracks and manages your formatted notes, tips, tricks, source code or other text-based information.
Intuitive and flexible, with an easy and familiar Office 2003-style interface, True-Knowledge supports project organization, collaboration, custom folders, extensive searching, article editor, MS Word compatibility, WYSIWYG preview and print layout, HTML Help publisher, import and export utilities, database replication and synchronization.
True-Knowledge
True-Knowledge Sale
Buy True-Knowledge now for only $49.95! Act now because this sale expires on March 31, 2005!
Get the Altaris Newsletter
Site Design
We'd like to thank Mike Papageorge of the fiftyfoureleven team.